Zong charges taxes on calls, SMS, and internet bundles, which are paid by customers, as we all know. So, along with all of your annual tax statement records, you'll require a Zong Tax certificate. This withheld income tax certificate can be attached to your income tax return and submitted to the FBR to show your actual spending over the course of a year.
As a result, we'll outline how Zong prepaid and postpaid users can obtain tax reduction certificates for their SIMs in this article. This document is available through the official Zong E-Care application. You may easily calculate the total deduction withholding tax for the entire year with the help of this certificate.
The tax document can be downloaded in a variety of methods from Zong 4G. We'll go over each one in great detail. Let's have a look at what a Zong Tax Certificate is before we get into the details.
Zong Tax Deduction Certificate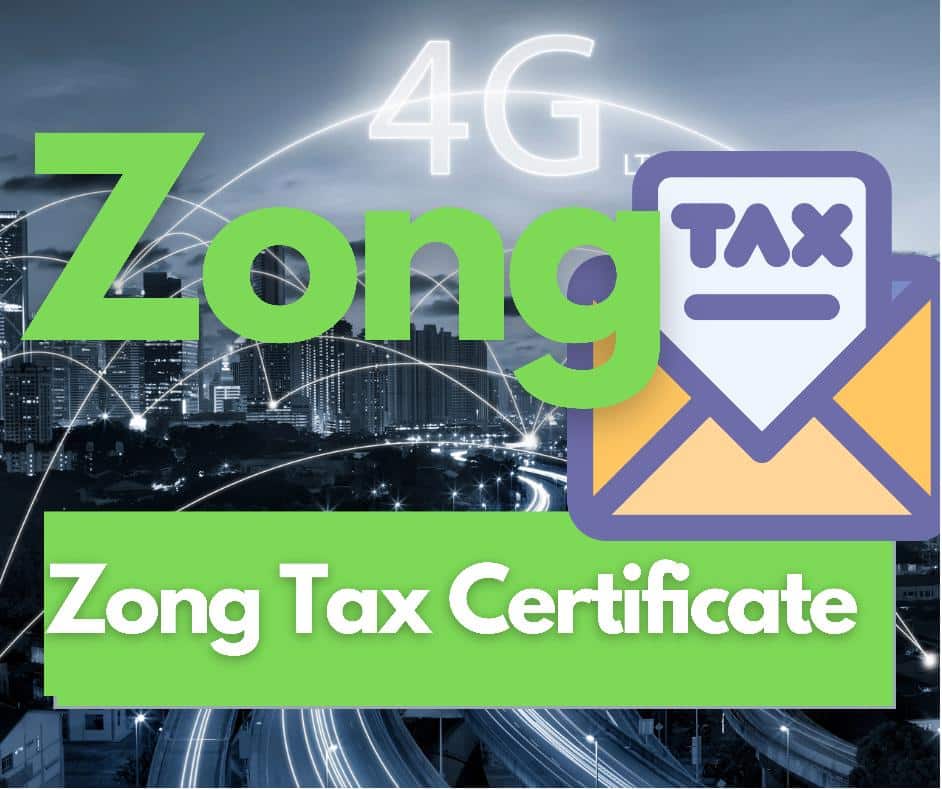 It's a verification document that shows how much you spent in taxes (for GSM/MBB/Internet SIMs) over the course of a year. This certificate is activated whenever a consumer makes a request or makes a demand, regardless of whether the subscription is Postpaid or Prepaid.
Every Zong customer is required to pay sales tax and advance tax. As a result, at the end of the fiscal year (1 July "20XX" to 30 June "20XX"), Zong makes the tax certificate of advance tax available to clients. Customers can now request it or download it from the company's various sources.
Simply put, it is a documentation of payment of due taxes while recharging your phone balance. When you activate a package or recharge your account, you must pay this tax. Anyway, let's have a look at how you can get the certificate.
How To Get Zong Tax Certificate?
Getting a Zong tax certificate  Pakistan together with a confirmation of yearly tax payment is now simple and convenient. There is no requirement for prepaid or postpaid customers to visit a Zong franchise or customer service center. They can get a free tax PDF certificate while staying at home.
Let's have a look at the many options for obtaining the necessary document:
• Through E-Care zong certificate
• Access to My Zong App
• Official Zong Email
Through E-Care

Here you can get Zong tax certificate online. The official website of Zong E-Care is the first place to go to check and download your Zong Tax Certificate. This is a design for an internet gateway that lists vital documents. Both postpaid & prepaid users can rely on the service.
Here are the steps to take:
• Go to https://ecare.zong.com.pk/
• In the second box, type in your Zong SIM cellphone number.
• In the third box, type in the verification characters.
•Then, to gain access to your account, click the "Login" option.
•On your phone, you'll receive a verification code, which you'll need to input on the next page.
•Now that you're in the portal area, select "Usage History" from the drop-down menu.
•To obtain the Zong Tax Certificate, select the Month/Date/Year from the drop-down menu.
You can print it off and use it anytime you need it.
This is how you download the certificate from the e-care website in a straightforward and easy-to-understand manner.
Through Zong App
You can receive the Zong Income Tax Certificate for free by utilizing the "My Zong App." You can print the certificate because it will be in PDF format.
Follow these five steps to receive your Zong certificate as soon as possible.
• Next, go to the Google Play Store and download "My Zong App."
• Scroll down to the Tax Certificate Icon on the home page.
• Go to the third line and click on "Tax Certificate."
•You'll be redirected to a page with basic options.
•For certificate duration, simply put "Start Date" and "End Date."
• Next, press the "Download Tax Certificate" button and wait a few moments.
• Your tax statement or certificate will begin to download.
Zong Tax Certificate Via Email
If the aforementioned techniques do not work for you, you must contact Zong via email support. Although this method isn't foolproof, it's worth a go if you can't get the certificate from the care site or app.
Downloading the certificate via Zong E-Care or Zong my App is the preferred option. You can, however, email Zong's official email address and obtain a tax statement from the authorities.
Wrapping Up
I hope this guide has assisted you in obtaining the notes. If you have a problem, please leave a comment and I will do my best to assist you. All the approaches are 100 percent effective, so make sure you carefully follow the instructions.