Pakistan Muslim League-Nawaz (PML-N) Vice President Maryam Nawaz along with her husband Captain (R) Muhammad Safdar and other PML-N leaders visited the Mausoleum of Quaid-i-Azam Muhammad Ali Jinnah on Sunday. Due to the shameful behavior at the Mazar-e-Quaid by Capt Safdar, he has been arrested by Sindh police.
They visited Mazar-e-Quaid before attending a public meeting of the Pakistan Democratic Movement (PDM) at the nearby Bagh-e-Jinnah.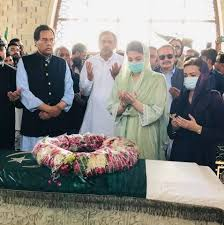 At their visit, Safdar started to chant the party slogan "Vote ko izzat do [respect vote]." He also urged people to join him. The supporters and party workers of PML-N responded to Safdar's call. They chanted along for an extended period of time.
Shameful behaviour at Mazar e Quaid by PMLN 😑

Doing politics on founder of nation#PDMKarachiJalsa #PDMJalsaKarachi#PDMcircusInKarachi
pic.twitter.com/lL4u5ipnH9

— یَاسِفْ Yasif (@IamYasif) October 18, 2020
The PTI government condemned the action of Safdar and demanded an apology. Moreover, they also approached the police. They asked them to take legal action against participating individuals.
Later, Sindh Police did register a case against PML-N leaders for chanting party slogans at the Mazar-e-Quaid. The case was registered against Maryam Nawaz, her husband Safdar, and 200 others at the Brigade Police Station in Karachi over the desecration of Mazar-e-Quaid.
The case was registered against the party workers under Section 6, 7 and 8 of Mazar-e-Quaid Protection Ordinance 1971.
So there is a Mazar e Quaid Protection and Maintenance Ordinance 1971. What that idiot retired Captain did today is a violation of that law. He can goto jail for that (too) hopefully. pic.twitter.com/5Mq9BeUFQ3

— Adeel Azhar (@adeel_azhar) October 18, 2020
Social media condemns the action of Capt Safdar
PTI workers and the public in general were displeased by the act of Safdar and other PML-N party representatives.
Minister for Maritime Affairs Ali Haider Zaidi said the behavior "is just not acceptable."
This is just not acceptable. The sanctity of Quaid's Mazar disrespected by these criminals masquerading as politicians. pic.twitter.com/XD1w9ATC62

— Ali Haider Zaidi (@AliHZaidiPTI) October 18, 2020
Minister for Planning, Development and Special Initiatives Asad Umar also demanded an apology from the party.
نہ ان بے شرم لوگوں کو اپنی تاریخ کا پتہ نہ اپنے محسنوں کی عزت اور تقریم کے آدابِ سے واقف. ان کو میاں صاحب کے علاوہ کسی کی عزت کرنی نہیں اتی. قائد کے مزار کی بے حرمتی کرنے پر ان کو قوم سے معافی مانگنی چاہیے pic.twitter.com/0u5ka7ZRSI

— Asad Umar (@Asad_Umar) October 18, 2020
He said, "These shameless people are ignorant of their history. They have no sense of regard and respect for such a place. The party only has respect for Nawaz. They don't know how to respect anyone else."
Other citizens of Pakistan were also unhappy at the action of Safdar. They requested strict action to be taken.
The sanctity of Mazar e Quaid violated for the first time today by 1500 Riyal Damad Safdar Awan and Begum Safdar Awan pic.twitter.com/eozUvP3n6a

— Early Bird🇵🇰 (@KhaOmm) October 19, 2020
Nawaz sharif raided the supreme Court of Pakistan.
Maryam Nawaz raided Mazar e Quaid today.#MazareQuaid

— Syed Qasim Raza (@SyedJzt) October 19, 2020
What a shame to see this video. Instead of paying respect and officering prayers at the Mazar e Quaid of the father of the nation, political slogans were raised. This is clearly unacceptable behavior and as tax payer citizen of this country demand strict action.

— Bashar E Momin (@RohanKhan09) October 19, 2020
Sindh Police arrest Capt Safdar
In the early hours of Monday, Sindh police arrested Capt Safdar from his hotel in Karachi due to his inappropriate behavior at Mazar-e-Quaid. The arrest was due to the case registered against him for chanting political slogans in Mazar-e-Quaid. Maryam shared the news in a Twitter message.
Police broke my room door at the hotel I was staying at in Karachi and arrested Capt. Safdar.

— Maryam Nawaz Sharif (@MaryamNSharif) October 19, 2020
I was in the room, sleeping, when they barged in. https://t.co/1gMEHHUnPx

— Maryam Nawaz Sharif (@MaryamNSharif) October 19, 2020
Ali Zaidi, however, dismissed news that the police broke into the hotel room to arrest Safdar.
Appreciate the quick action taken by IG Sindh against the the hooligans who disrespected Mazar-e-Quaid.
Law must take its course.
Maryum once again lying that the hotel door was broken. Video shows otherwise. Do u see any handcuffs? Does it look like he was arrested by force? pic.twitter.com/7DLHTiw2kA

— Ali Haider Zaidi (@AliHZaidiPTI) October 19, 2020
Federal Minister for Science and Technology Ch Fawad Hussain appreciated the responsible action of Sindh Police to arrest Safdar.
سندہ پولیس کا کیپٹن صفدر کی گرفتاری کا عمل قانون کے احترام کا بیانیہ ہے،قائد اعظم محمدعلی جناح کی قبر اور ان کا مزار کم ظرف سیاسی قیادت کے کھیل کا میدان نہیں ہر پاکستانی کےلئےمقدس جائے ہے، قائد کے مزار پر اٹھکیلیاں ، نعرے بازی اور غیرسنجیدہ طرز عمل قانون کے خلاف ہے سزا ہونی چاہئے

— Ch Fawad Hussain (@fawadchaudhry) October 19, 2020
In a tweet, Fawad said, "The arrest of Capt (R) Safdar by Sindh Police illustrates the importance of rule of law in the country. Mazar-e-Quaid is not a playground for politicians. It's a place that is Pakistanis highly respect. Slogan mongering and other non-serious activities at Mazar-e-Quaid are not acceptable. The offenders should be punished for it."
Even after being arrested, Safdar was chanting party slogans. He is being kept at the Aziz Bhatti police station. It is expected that Safdar will be presented before a court today.
What do you think of this story? Let us know in the comments section below!