Muhammad Rashid, a Pakistani martial artist from Karachi has placed his name in the Guinness Book of World Records by breaking 254 nuts from the head against an Indian player Naveen Kumar in the famous Italian TV show La Noti Dai Record. However, the record maker recently revealed in an interview how he only gets fake promises despite all his efforts.
The Pakistani artist now has 45 world records to his name. He has made records in different areas. Including most watermelons crushed with the head in 30 seconds, most walnuts crushed by the hand in one minute, most drinks cans crushed with an elbow in one minute, and most spins of a fire staff in one minute.
Most walnut cracking challenge in one minute. Muhammad Rashid from Pakistan beats Indian by cracking 254 walnuts in one minute. pic.twitter.com/tQ1VWpG0Xo

— Roha Khan (@Roha_Khani) October 1, 2020
Breaking a Guinness World Records title is often on peoples' bucket lists. But this Pakistani serial record-breaker and black belt holder never wished to stop at just one. According to Rashid, he aims to have at least 100 records.
Moreover, Rashid's Guinness world record made Pakistani social media users extremely happy. Even though Rashid has secured himself the status of a record-breaking martial arts icon in the world, there seems to be no door of job opportunity open for him.
While speaking to the Time of Karachi, the Pakistani martial arts expert revealed that despite making so many world records, he does not get anything in return. In his interview, he talks about his struggles in the world of combat sports.
People only give you false hope and make empty promises, says Rashid
Rashid said, "In Pakistan, people only give you hope. But when the time comes to act on it, they never receive calls. All the acclamation and praises I get do not do anything for me. I get many lots of encouragement and promises from people."
"But now, when people make promises, I do not take them too seriously. Because a lot of people promised me a job. I will not name them, but there are many. However, I am still waiting for an opportunity. Meanwhile, I am continuing my work and trying to do as much as I can for Pakistan," he added.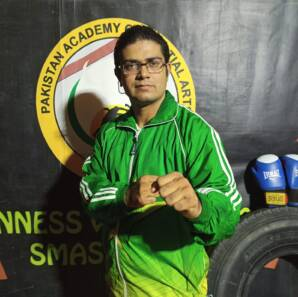 Rashid talks about how struggles to find a job for himself, and the number of times people have let him down by breaking their promises. Moreover, he shares that one time a renowned institute contacted him and said that they wanted to make a world record for him.
He further added, "We had a couple of talks, and even had meetings 3-4 times. However, later it turned out that they did not have the budget to make one person's world record, which is 40k to 50k. They were very sorry about it."
I have contributed towards this country & deserve something in return, he adds
Furthermore, the martial arts expert said that with the number of records the media has covered him, and given that he has millions of viewers, many would know him all across Pakistan. Yet, nobody bothers to contact him to offer any kind of opportunity.
"Be it little, but I have contributed towards making my country proud. Although Pakistan does not need me to be recognized worldwide, as a sportsman it is my duty to contribute to my country," Rashid stated.
The disheartened Guinness world records title holder added that the government should pay heed to his contribution. Especially when one person alone, makes his country proud, it is his right to be acknowledged by the government.
In the end, Rashid talks about how he has a huge fan following on social media. With a smile on his face, he shares how he gets lots of love from his fans. Moreover, people often contact him on YouTube, asking him to teach them martial arts. Consequently, he made a platform on social media where he now teaches his fans martial arts.